The word 'renovation' should conjure up two ideas in any homeowner's mind:  Beauty and Value.  'Beauty' is the first component regarding renovation since the major intent of a renovation project is to eliminate the old and bring in the new.  It's about adding fresh colors, textures, patterns and designs to enhance any part of one's home, whether the beautification is inside or out.  'Value' is the second component of renovation; and it is crucial because it has everything to do with increasing the equity in one's home; or at the very least, providing the home with enhanced re-sell potential, allowing it sell faster if it is ever on the market.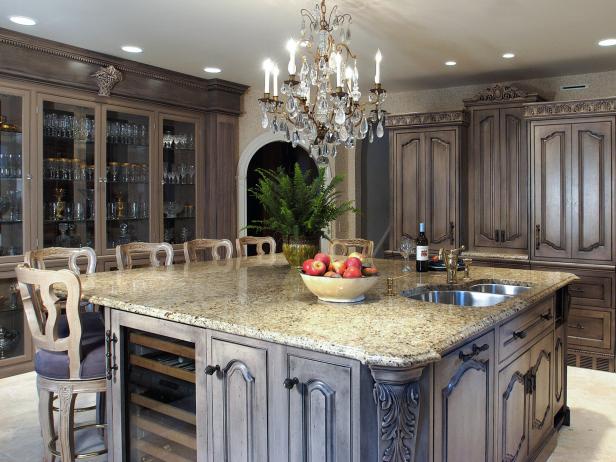 Here are three renovation ideas that will add beauty and value to any home in any neighborhood; and according to Remodeling magazine, kitchen and bath makeovers take the lead as equity builders!
Renovate the Kitchen!
The kitchen is the heartbeat of a home; and because of that, even a minor kitchen makeover including painting, refinishing surfaces and upgrading appliances can bring in an 87% return while a major kitchen renovation, including new flooring, high-end appliances, new countertops and cabinets, etc., can contribute to an 80% return on investment—this, according to the popular television series, This Old House.
Some considerations for a dramatic kitchen makeover can include adding:
*** upgraded or top-of-the-line stainless-steel appliances
*** stone countertops:  granite or even concrete countertops are very much in vogue, though pricey.  A great alternative would be engineered stone or laminate materials that stunningly simulate much-more expensive options.
*** new, refaced or painted cabinets:  new cabinets are not cheap, but they do look stunning.  Two less-costly considerations, however, would be to have your cabinets professionally painted or refaced.  Once you add new pulls, knobs and hinges, your cabinets will look dynamic at a very affordable cost.
*** new lighting fixtures or recessed lighting:  included in this would under-cabinet lighting which adds an extremely cozy, welcoming ambiance in addition to extra light during food-preparation times.
*** new flooring:  tile, wood planks or less-expensive engineered woods are only a few of the flooring options, giving your entire kitchen a high-end appearance!
*** an island, preferably with seating:  any sized-kitchen can look dramatic with an island or an extension of a countertop area that can act like an island.  Whether it is a work-space-only Island, a larger island or extended countertop space that can accommodate additional people for eating, you will have added an amenity that is universally appealing.
*** fresh coat of paint:  give your walls a fresh coat of paint, but it's wise to keep colors neutral to appeal to a larger audience , if the house will be, eventually, sold.
*** stainless-steel sink with new faucets:  this will add instant 'zing' to any kitchen, all by itself!
*** tile or stone backsplash:  especially around stove areas, tile or stone acting as a backsplash that has been sealed is super-easy to keep clean and provides eye-candy regardless of where it is placed.
A professional-looking kitchen remodel will give you more bang for your buck when it comes to adding equity to your home!
Renovate a Bathroom!
Creating the bathroom of your dreams doesn't have to create a nightmare with your budget.  Again, there are so many things—both minor and major—you can choose to do to transform any bathroom in your home from 'frumpy' to 'fabulous', including the following:
*** renovate or replace cabinets as well as adding countertops and faucet hardware
*** replace or refurbish an old tub:  refurbishing an old tub is very cost effective; but if replacing is the goal, substitute the tub with a beautiful, walk-in shower lined with marble-slab or tile.  According to the American Institute of Architects, more than 60% of homeowners prefer a walk-in shower over a tub and shower, combo.  To keep the home optimally marketable, however, at least one bathroom in a home should have a tub.
*** tiled flooring:  any linoleum replaced by tile will add a tremendous 'wow' factor to even the smallest of bathrooms!
*** storage:  as much storage as possible in a bathroom is a big plus.  Adding shelving and a wall cabinet above the commode with additional shelves and/or drawers will add charm and much-needed space anything bathroom related.
Remodeling magazine states that a mid-range bathroom remodel will recoup 70% of the investment.
Add Curb Appeal!
A home's curb appeal is every bit as important as any facelift on the inside; and a home's exterior is what creates that all-important 'first impression.'  What people don't realize is how much value landscaping and a beautiful yard can add to a home.  The National Association of Realtors states that Curb appeal can contribute 10% of a home's total value, and has the potential to add thousand's or ten's-of-thousands of dollars to a home's market value.
Consider the following to add to your home's 'first impression':
*** keep the yard well-fertilized with a dedicated regime of fertilization and weed-preventative measures, several times a year.
*** plant flowers:  generous amounts of flowers or flowering bushes will add dramatic splashes of color.  Additionally, large pots filled with blooming color will make any visitor feel welcomed.
*** spruce up the front door:  your entrance door is a hidden gem just waiting to make your home's entire exterior 'pop'!  A home painted gray, for example, will become the perfect candidate for a door that is painted red, slate blue, yellow or green.  And don't forget to add a brass door-knocker and new hardware.  You will be amazed at the transformation—your front entrance will go from 'drab' to 'fab'!
*** stain your walkway:  if your walkways have seen better days, you can give them a new lease on life, too.  Staining products for just this purpose are available at any home-improvement store.  The product is simply rolled on with a long-handled roller.  Oh what a difference it can make!
Renovations are all about enhancing the beauty of one's home and increasing the home's value!